Current Dispatch
Journal
Next Stop






Contact Us
Straddling the Wallace Line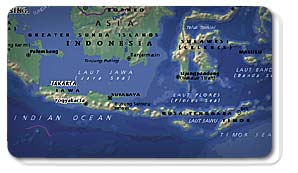 Map of where we are.
Steamy green foliage, frozen desert plateaus and refreshing azure water swirled through my brain. A sultanesque bamboo bed stretched out over a hard wood deck facing the crystal sea. Gentle breezes and lightly crashing waves lolled me into a dreamlike state. Lying on my daybed facing the Bali Sea, I contemplated our nine-month adventure and the reality that it would soon only be a memory.

Click to Enlarge.
I read about Alfred Wallace. He was the British naturalist that 'discovered' Asian flora and fauna and wrote Charles Darwin about his resulting theories on evolution. In the nineteenth century he discussed the the survival of the fittest in his own essay about the origin of the species. Apparently, Charles Darwin had a better publicist. Although Alfred Wallace received little credit for his theories on species evolution, he is remembered for the Wallace Line. The biologically oriented division, still used today, cuts straight through present-day Indonesia demarcating where Asian fauna stops and Australian begins.

Click to Enlarge.
At the edge of the Wallace Line on Gili Air, we had reached the end of Asia. Hong Kong, Thailand, Cambodia, Vietnam, Laos, Bangladesh, Nepal, Tibet, China, Malaysia, Singapore and Indonesia - we had lived our dream adventure. All that remained was a driving tour of Bali and a few more blissful sun-kissed days on the island of Gili Air. Hopeful and desperate, exotic and ordinary, the final two weeks were a microcosm of our entire journey.

Click to Enlarge.
The crystal clear water nearest to the shore of Gili Air is a calm aquamarine; it transforms into blue topaz, lapis lazuli and finally the darkest sapphire as the depth increases. Underneath the surface we discovered juvenile Angelfish with electric blue and white striped camouflage, spiky-webbed red Lion Fish, one meter (3 foot) parrotfish, and nail-polish-pink leaf fish with mirrored eyes.

Click to Enlarge.
The beaches varied from scruffy to beautiful, but at just over a kilometer (.62 miles) in diameter, it was easy to walk anywhere we wanted to go. One sandy path wrapped around the island. Horse drawn carts driven by local teenagers were the only form of transportation. Hotels comprised of beach huts and restaurants with individual thatched palapas were scattered around the periphery. As the interior of the island was cultivated for crops and cows, the flora and fauna were of little interest.

Click to Enlarge.
Will and I spent our days snorkeling, swimming, diving and relaxing. Placid purple sunrises simmered into scorching midday heat, melted to gold leaf sunsets, and then transformed into a night shimmering with silver sequins. We welcomed the progression of our tropical days even though each passing moment meant we were closer to the end.

Click to Enlarge.
Our final week was spent on the better known, larger and more developed island of Bali. We rented a Suzuki Jimmy to discover the island on our own schedule and pace. Cruising out of the southern beach of Kuta, the Balinese equivalent to Cancun, we were ecstatic to be leaving the Hard Rock Café, KFC and strip of bars that advertised Australian food and three-for-1 beers.

Click to Enlarge.
After one hour of two-lane traffic more congested than the worst head cold, we finally began to see a less-westernized version of Bali. Roads twisted as we meandered past the towns of Batbulan, Celuk and Mas famous for stone work, silver jewelry and woodcarving. Outside the shops, women carefully laid offerings of flowers and incense to placate the spirits. Fanciful cement frosting lusciously adorned redbrick cake temples.

Click to Enlarge.
As we passed by one temple, Women entered in figure hugging sarongs balancing massive towers of fruit and sweets atop shiny black hairdos. Hoping to find a festival, we pulled over into a nearby store's parking lot. We stepped inside to ensure it was okay to park. The owner, Ana, laughed at my silly question, responding that it was no problem.
Prior to heading to the temple, I pulled Will into a silver shop located in a mansion off the main street. We were informed the owner was not present, but we were invited in to take a look. As we perused, Ana pulled up on a motorcycle.

Click to Enlarge.

She was the owner. I conned Will into purchasing a few truly exquisite pieces. Ana inquired if we were heading to the temple next. When we replied positively, she ran out for a minute and then returned with two sarongs. After tightly wrapping the two of us in the required temple attire, she smiled and sent us on our way.

Click to Enlarge.
Inside the temple I explored exquisite carvings, fierce Hindu protector gods and pagoda like structures. Women greeted me and we chatted as they prepared their fruit offerings. Will attended the men's cockfight. People were friendly and open, shockingly so in a country that is so heavily touristed.

Click to Enlarge.
Back in the car, we continued to pass workshops selling arts and crafts spanning the range of quality. "Antiques made to order" signs appeared around every bend. Stone Ganeshes, Dragons, and Balinese protector deities pleaded with Will to take them home. A massive-teak-two century-old-day bed asked to be the centerpiece of our living room in DC. We named one street Pier One, Crate and Barrel and Cost Plus land. Everything found at the stores: sun mirrors, baskets, boxes, CD holders, rattan furniture, and the like, were for sale at a fraction of the cost of what they would be in the US. I briefly contemplated a career as a buyer, if it meant I could travel often to Bali.