Current Dispatch
Journal
Next Stop











Contact Us
After a night of revelry the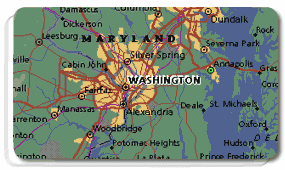 Map of where we are.

21st century smacked us right in the face. To fight the grogginess and in an attempt to take advantage of the blue skies and unseasonably warm DC weather, we ventured out into the city.

Over the bridges that span Rock Creek park, the trees are gray. While we bundle up the trees loose their coats. Nests are visible everywhere. The city has a naked look.

Click to Enlarge.

Down the steps of Meridian Hill (a.k.a. Malcolm X) Park, it seems as if we are alone the city. 18th street, usually thriving with shoppers, brunch goers or club hoppers, is silent save our footsteps. Yet, it is vibrant with the color of the winter blue sky, and the primary colors of the many painted shops.

Crossing back into Rock Creek Park, we find life. The Zoo

Click to Enlarge.

animals are also out enjoying the warmth. Elephants play with their toys. Fat groundhogs pop out of their hibernating burrows. Rhinos snort. Giraffes stretch their necks towards the leafless treetops. Gibbons reach their long arms across the expanse of their cages. You can, almost, imagine them swinging through the jungle, freely in the wild.

As we climb up the hill towards our 77-year-old row house, it hits us. It is not the hangover. We are leaving in a month. There is still much to do. Packing, planning, panicking. Excitement and apprehension. Our walks will no longer be the urban landscape of DC but the jungles of Asia. In just 33 days when we look up, we may actually see a gibbon gliding by on a rain forest vine.