Current Dispatch
Journal
Next Stop






Contact Us
Dessert me in Hong Kong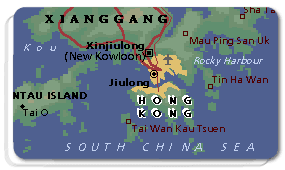 Map of where we are.
I hate chocolate. Although this is a seldom-heard phrase from any red-blooded American woman, it is true. No matter what the flavor: white, bittersweet, dark, or milk, I am not interested. With an insatiable sweet tooth this dislike causes me a multitude of problems at typical western style restaurants all over the world.

Click to Enlarge.
If you do not want to partake in the double decadence or triple fudge concoctions, you are always left with a selection including carrot cake, apple something or fruit tart. Furthermore, after eating some over-portioned western meal, the last thing I want is some heavy, over sweet mass smothered in ice cream.
Well my closet chocolate refugees, dessert offerings will not bore you in Asia. Light, subtle, not too sweet, the desserts Will and I experienced in Hong Kong were complete taste bud revelations. You may have tried the green tea ice cream, or bananas flambe on your last trip to an Asian restaurant. In Hong Kong you are able to delight in so much more.

Click to Enlarge.
The staples of Chinese and pan-Asian desserts are quite varied. Red bean, hong dou, is akin to small kidney beans. Green bean, lu dou, is mung bean in English. Now before you scrunch up your face, stay with me, you could be in for the taste treats of your life. Green and red beans can be served with shaved ice, bing in Chinese, in glutinous rice balls, much more appetizing then the name suggests, in puddings, in pastries or in ice cream, a western construct. In summer, cold sweet bean soups cool you down. In winter, hot bean soups with white fungus, a Chinese mushroom, warm you up.
Fruits are essential to Asian desserts. Papayas, mangos, bananas, watermelon, honeydew, pineapple, and coconut are served in a multitude of fashions. There are also new fruits to be discovered: custard-apple, the stinky durian, haw haw, Asian plums and the lychee family of fruits.
Dragon eyes, rambutans and lychees are rarely found in America, and when found, they are canned. Fresh rambutans stuffed with pineapple or dragon eyes after you peel their bright-red spiky exterior have a delicate flesh with a faint sweet flower taste. Will ordered a coconut shaved. Rambutans floated at the top of chilled cocunut milk served over ice.

Click to Enlarge.
Bing, shaved ice, is a Taiwanese dessert that is now offered all over China. It is served with or without milk and with fruit, bean or jam-like toppings. Bing offers a perfect cool down to Asia's sweltering days. I partake as a substitute for lunch.
Pudding, made with tofu, milk or condensed milk, comes alone or with large slices of fruit and juice or beans. Sago, a Philippine tapioca and one of my personal favorites, Jelly and sticky rice are also mixed with juice and fruit. Sticky rice comes either hot or cold and black or white. While sticky rice sounds like Uncle Ben's gone wrong, it is smooth, tasty and comforting like traditional custards without the heaviness that comes with adding egg yolks and cream.
I made Will walk around in circles for hours looking for a Sago shop I ate at over 4 years ago. I was informed, sadly, that it had been closed. Luckily a friend pointed us to a small Chinese dessert shop near our hotel. While there, Will, a friend and I sampled mango pudding, hot coconut flavored black sticky rice and mango sago. The sticky rice was pudding-like in texture. Red bean had been added. Coconut milk was poured over the top. Huge chunks of perfectly ripe mango floated in a perfectly cooked and then chilled Sago made with pureed mango juice. A velvety custard pudding base was accented with small pieces of mango.

Click to Enlarge.
For a great alternative to a western ice cream 'milk' shake, tropical fruits are pureed in a blender and served as juice with or without milk. Will and I sampled a melon juice for a late snack one afternoon. Pure and fresh mango juice, sugar cane juice or papaya milk bought from street vendors is heavenly and inexpensive. If you absolutely must have ice cream you can find all sorts of fruit flavored selections as well as peanut, green tea or ginger.
Peanut, sesame and poppy seed are other taste staples for the eastern dessert palette. Peanut and poppy seed are often served in pastries, both wheat and rice based, and with sticky rice. At one corner shop I ordered mocchi soup. Large balls made out of tapioca flour were filled generously with black sesame. The black sesame tasted similar to peanut butter but not as sticky or sugary. The mocchi were floating in a sweet and warm clear ginger broth. Next to us ladies rolled the mocchi by hand and mixed the black sesame paste. Tea is an entire dessert genre all to itself. At tea shops you can get iced tea with condensed milk flavorings and dragon balls. Not to be confused with dragon eyes, dragon balls are gargantuan tapiocas that must be slurped through an extra large straw. Their sole purpose is to add texture to the tea, which is usually consumed in an oversized brandy snifter or sundae glass.

Click to Enlarge.
While Dim Sum, translated as a touch to the heart, receives all the hoopla in Hong Kong, I prefer to pick my tasty treats from the Asian dessert shops. Teahouses, street vendors and side street shops are the most authentic places to find all that I have described. You can also find offerings at most Chinese restaurants. My personal favorite is a tiny shop on D'Aguilar Street in Lan Kwai Fong with a huge selection. You sit at tiny tables or booths and order from a plastic covered menu with lots of pictures. The shop signs are all in Chinese, except for a small piece of paper on the left side of the window that has FAMOUS CHINESE DESSERT written in block letters.