Escaping Bangkok Traffic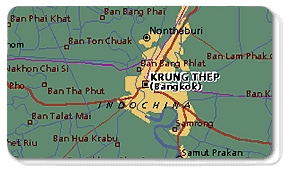 Map of where we are.
It was 3:00pm on a sweltering Tuesday afternoon in Bangkok. Will and I desperately wanted to get back to our hotel to take a nap. Tired, sweaty and grumpy after a day of wondering around in over 95-degree heat, we hailed a cab. It took us an hour to cover just a few miles. We got our nap, but in the taxi.

Click to Enlarge.
That evening we were running a little late for dinner with a friend. The restaurant was only a half-mile away, but we wanted to make our reservation because Thai dancing was involved. We tried to get a taxi, thinking that it might get us there a bit faster. After showing the driver the card for our restaurant, he pointed towards the traffic and said, "faster, you walk." Walk we did.
Everyone has heard how Bangkok is famous for traffic jams. They appear to be spontaneous, in no sort of discernible rush-hour pattern; they just pop up out of nowhere, day or night.

Click to Enlarge.
Our friend at dinner explained that the situation is much better than it used to be. The number of cars vying for space has decreased dramatically as 22% of the cars have been repossessed due to Thailand's current economic troubles.
The traffic still seemed pretty severe to us though. To conquer it, for each journey across town, we would devise a transportation plan of attack. Taxis and buses, although inexpensive, were unreliable. They could take anywhere from 20 minutes to two hours to get to a destination. We decided to forego conventional modes of transport and seek alternative modes. The following saga depicts how Will and I traveled from our hotel in Banglamphu, an older part of town, to the Coco Tea Shop in Siam Square, a pretty hip area near the university. The goal of the journey was to obtain an iced mango black tea with giant tapioca dragon balls.
From our guest house, we hop a ride on a Tuk Tuk, a three-wheeled motorcycle with a passenger carriage. While Tuk Tuks must share the road with the taxis and buses, their compact size and daring drivers assure that you get to your destination faster. You are not however, guaranteed that you will arrive with all your limbs still intact. A lot of foreigners had limps in Bangkok; we hypothesized a large percentage were due to Tuk Tuk mishaps.
After darting in and out of lanes, in front of massive trucks and into the oncoming lanes of traffic our driver drops us off at Banglamphu pier with all limbs still intact.

Click to Enlarge.
In a flurry of activity the Chao Praya Express starts to pull up to the pier. People clump together jostling for position right on the edge. The boat hand starts whistling. People push their way on and off the boat. Ladies grab onto each other to steady themselves as the boat and pier sway erratically. The whistles get quicker. The boat begins to pull away. After watching in awe, we realize it is now or never. From the pier, we literally jump on the Express.
The Express is a passenger ferry service that takes riders all the way down or up the Chao Praya River, the main river in Bangkok.

Click to Enlarge.
As a breeze blows off the river, the Express allows us to escape the heat and see fantastic views of Bangkok. We pass Wat Arun - Bangkok's Grand Palace, Wat Po - a famous temple complex, and a number of lesser known Thai and Chinese temples.
The most beautiful time to take the boat is at rush hour. As the sun sets the temple tops glisten gold. All the boats traveling up and down river though create quite a series of wakes. As we dodge splashes together, Will and I laugh with all the Thai passengers taking the boat home from work and school.
Click to Enlarge.
After traveling the entire length of the city on the western side for a mere 7 Baht or 20 cents, we get off at Tha Shangri La (Shangri La Hotel Pier) to catch a new form of transportation…
We climb aboard the Skyway, a brand new mass transit system that travels 5 stories above the commercial centers of new Bangkok. Sitting in the pristine cars, we get a Bladerunneresque view of the city as we travel above it. Large, unfinished and vacant skyscrapers, apparent victims of the current recession, jut into the hazy sky. We whiz by above as cars inch tediously along below.
Opened in October of 1999, the Skyway gets you where you are going quite quickly and for usually under 40 baht, about 1 dollar. However, as it is new, the stops are limited. So, as the cab driver suggested before…
We walk the rest of the way. Streets in the new area of Bangkok are cross-hatched by numerous overpasses. Thais can eat dinner, see a movie and return home all by overpass and skyway, without ever reaching street level, touching a sidewalk, or even going outside.

Click to Enlarge.
From the Skyway stop, we cross over the traffic into a shopping mall. We enter into another without even knowing we have left the first. We hike down the overpasses and land in Siam Square, an open air shopping area in the university district.
In less than an hour we reach our goal, the Coco Tea Shop. Leisurely sipping mango tea with dragon balls, we think, sometimes the journey is just as important as the destination.

Click to Enlarge.

We decide we have had it with the traffic, pollution and frenetic pace of Bangkok. Making a real escape from Bangkok, the next day we catch a ride on a minibus headed for the beach.

MKS