Young Cambodia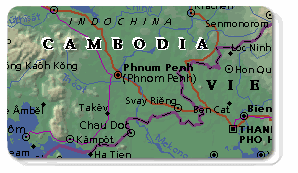 Map of where we are.
On the main drag of Phnom Penh, Sisowath Quay, Will and I sat at a corner café, a French colonial relic, sipping coffee and eating a baguette. Motorcycles whizzed by kicking up orange dust from the unpaved streets. Watching the populace race from place to place, we could see and feel the electricity building. Cambodia is ready to explode.

Click to Enlarge.
Around the corner from our hotel was Mekong Cyber, Phnom Penh's newest Internet cafe. One evening, Will and I ventured in to check email. As we sat at the computer and logged in, we were served Coca Cola, tea, bananas and candy. Stunned at the level of service, we looked up.
Kim Chea, the owner, was eager to engage us in conversation. He had just opened his shop that month. Mostly foreigners were using the service, but the number of Cambodians was beginning to grow. Internet access was becoming cheaper, down from $12 an hour to $4. And, we were told the government was going to allow competition soon which would drive the price even lower.
Looking across the river from the same café, there are only bright green rice paddies and small gray wooden houses on stilts. There are no concrete buildings, no motorcycles. Fishermen slowly ply the river in traditional boats. They empty their fishing nets into large rattan baskets just as they have done for centuries.

Click to Enlarge.
Cambodia appears to have one foot in the past. It is the last country in the region to open up economically. Tourism was officially sanctioned in 1998.
A past of war, genocide, and occupation has delivered multiple blows. Will and I were able to see this first hand at Tuol Sleng, a high school turned torture chamber during the Pol Pot regime.

Click to Enlarge.
We took a speed boat up the Tonle Sap river from Phnom Penh to Siem Reap. Siem Reap is the town from which people access Angor Wat, Cambodia's world famous Khmer temples. Journeying just a few minutes outside of the city was like a step back in time. Women wearing conical peasant hats perched at the edge of their traditional wooden boats. Young men stood rowing slowly upstream with one oar. Egrets waded near the shore. Kingfishers dove for fish. Young girls hung washing out of wood and thatch houses on stilts. Houseboats floated timelessly while their occupants swung on hammocks.
As we raced by our wake disturbed the fishing boats we passed. Small children waved enthusiastically to us from the shore. They are the rest of Cambodia's body, stretching and grasping voraciously towards the future.
After five hours of exquisite scenery, the speedboat abruptly halted on the outskirts of a floating village. The village was a fishing community where all business, habitation and interaction took place on the river in floating wooden dwellings. As our boat parked next to a floating waiting room, water taxi drivers shoved pieces of paper in front of each foreigner trying to identify their appointed fares. Will and I had booked a guesthouse in advance. Finally I spied a piece of paper that said, "Mary and Will, Chao Say Guesthouse." Backpacks on board we negotiated through the frenzy of long boats, foreigners and Cambodians.

Click to Enlarge.
Sokhoeun was there to meet us. He and his friend led the way towards motorcycles. Then after determining that our packs were too big, they paid two guys to drive their bikes home and loaded all of us into a minivan.
After a rocky ride through rice paddy villages we arrived in dusty Siem Reap. Our guest house was in an old French colonial building across from the market. The owner of the guesthouse, Dominque, a Belgian formerly with the UN military forces, greeted us warmly. He also asked how we would like to get around Angkor, by car or motorcycle. We requested motorcycles. He replied we must have drivers for our tour of Angkor to avoid possible legal entanglements.

Click to Enlarge.
Sokhoeun stepped forward with his friend Chou Na. I hopped on back on back of Sokhoeun's motorbike. Will hopped on back of Chou Na's. On that first day, we toured around Siem Reap town and as Dominque suggested we went to the Mountain to see sunset.
As we drove through Siem Reap, Sokheun pointed out the landmarks: the Five Star Hotel D' Angkor, the Post Office, King Sihanouk's Residence, and the Siem Reap Hospital. The Hospital, Sokhoeun said, was always full of soldiers and mine victims, overflowing until last year. I listened intently as the wind tended to carry his words away.

Click to Enlarge.
In only a few minutes we were in the countryside. Rice paddies and farm villages lined the road. Women stooped and pushed new plants into the mud. I asked about rice farming and how many rice grains were on each stalk. Having grown up in Nebraska I understand corn and wheat, but rice fields are quite foreign. Sokhoeun pulled over and beckoned me to follow. We walked down from the road. He picked a rice plant and showed me the multiple grains on a stalk, very similar to wheat. He further explained that when the field is green the rice is new. When the field looks red, the rice is ready to harvest. During the dry season, some fields still are able to support rice but most are not. On those farms people grow bananas, cashews, corn and other crops.