Current Dispatch
Journal
Next Stop






Contact Us
Comparable Economics Saigon Style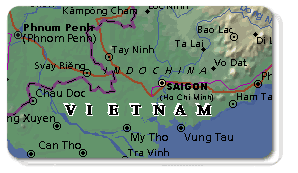 Map of where we are.
In Ho Chi Minh City, Saigon as the locals call it, throw away all your notions of what a dollar, or specifically $3.50, will buy. The largest denomination of Vietnamese currency is 50,000 dong, the equivalent of US$3.50.

Click to Enlarge.
It is astonishing how little or how much value you can get from a 50,000 dong note. In Pham Ngu Lao, Saigon's mecca for foreign backpackers, 50,000 dong will buy you a great meal for two: a dozen shrimp marinated in coconut, tofu with lemongrass and chili, vegitarian spring rolls, two lemon sodas, mustard greens sautéed in garlic and steamed rice. Fifty thousand will also buy you four Saigon beers, five coca-cola's, two packs of Marlboro Lights or 10 1.5 liter bottles of purified water.

Click to Enlarge.
At the 5th floor bar at the Rex, Saigon's famous five-star hotel, 50,000 dong will buy you two weak iced Nescafe instant coffees. The open air bar is a relic of Saigon's colonial past with a fabulous view overlooking the hustle and bustle of downtown Saigon.

Click to Enlarge.
To get to the Rex from Pham Ngu Lao you will need some sort of transportation, either Motorcycle or Cyclo. It is virtually impossible to cross any major street on foot. Traffic is total chaos. Motorcycles and bicycles jam the streets interspersed with speeding buses and beeping cars. Lanes do not matter. Nor does it matter which way you are traveling on either side of the street. There are only a few traffic lights. When they are working they are ignored. Vehicles entering traffic circles seem to have the right of way, if there is one.
While sipping a beer with a friend at the Rex, I complained about the difficulties I had faced trying to cross the road. He asked how I did finally make it. I skirted the question, but he persisted. Finally I answered that I had stood behind a small child. He laughed heartily and replied that is what everyone says on their first day in Saigon.

Click to Enlarge.
To avoid having to cross the street on foot, you can get a 2-hour tour of Saigon on a Cyclo, a three-wheeled bicycle rickshaw, for 50,000 Dong. Or, you can get 5 single rides by motorcycle or cyclo, with careful negotiating for the same 50,000. Motorcycle taxi's are easy to find, their driver's make a revving motion with their hand and say, "Madam, moto?" Or just stand on any street and stick your hand up in the air. One will find you. Even better yet you can rent a motorcycle yourself, as Will and I did, for half-a-day for 50,000 dong.

Click to Enlarge.
We took the motor scooter to Saigon's Central Market, a large yellow 1920's colonial building, where you can buy everything from shampoo to fish. We bought a beautiful hand-painted-lacquer photo album, a serving plate and a set of mahogany chopsticks. Each item was 50,000 Dong.
At the market, I also bought a pair of loose-fitting lightweight black pants. Approaching 95 degrees each day we were there, the weather is super hot and humid in Saigon. I could not wear shorts because everyone would stare incessantly at my legs. Only beggars and schoolboys, we were told, wear shorts. I could not wear a skirt because then I would have to ride the motorcycle sidesaddle, which I am nowhere near coordinated enough to do. So, I bought the pants. They cost, after bargaining the seller down from 120,000, you guessed it, 50,000 dong. Unfortunately, I ripped the pants the next day in a motorcycle accident on the way to the Mekong Delta.

Click to Enlarge.
We decided the accident, although I only had a few bruises, scratches and a pair of ripped pants, was an omen. Ditching our motorcycle guides in Cantho, approximately 90 miles south of Saigon, we decided to take the Vietnamese local bus back. While waiting for the bus to leave, we took a wonderful 3-hour cruise through the Mekong Delta. One of the women from the market in Cantho took us meandering through tiny waterways lined with towering palm fronds and mangroves. We saw mudfish, children splashing about, and a floating market while relaxing in her tiny wooden fishing boat.
Midway through the tour, we stopped at a beautiful cottage on the river called the Fruit Garden. Hanging purple flowers swayed in the breeze and butterflies flitted about. Will ate some noodle soup while I had fruit salad and pineapple juice. Then we headed back on the boat for the remainder of our leisurely tour. The boat ride and the lunch each cost 50,000 dong.
Click to Enlarge.
From the boat we rushed to catch our bus. Two tickets back on the 6-hour bus to Saigon, including two ferry rides, and a small bottle of water, a Coca-Cola and a little cake we purchased from street vendors enroute, all together cost us 50,000 dong. The only foreigners on board, Will and I were the topic of conversation for the entire journey. Will had worn shorts unfortunately. This led to much laughing at, pointing, squeezing and pulling of his leg hairs, all in good fun. Completely exhausted, we arrived late at the bus terminal on the outskirts of Saigon. Our airconditioned taxi back from the bus station to our hotel in Pham Ngu Lao also cost 50,000 dong.

Click to Enlarge.
The next day we had lunch with the same friend we had met for drinks at the Rex. We explained our amazement at the range of prices in Saigon. We could get 10 shoeshines, a painting, a book, two bus tickets, two cups of coffee, five bunches of bananas, or lunch and drinks for 2 at the new Pho 2000 noodle shop for 50,000 dong. Pho 2000, Vietnam's answer to McDonalds, is a new chain of noodle soup (Pho in Vietnamese) restaurants that have just opened in Saigon. The prices are great and the Pho Chay, vegetarian, and Pho Bo, beef, were the best we tasted while in Southern Vietnam.
While some purchases seemed quite inexpensive, like the lunch for two at Pho 2000, others like the bananas bought at the market near our hotel or the cyclo rides seemed like a rip off. But, if we tried to bargain below a certain amount the vendors would refuse to budge. Our friend, who has lived in Vietnam now for three years and speaks fluent Vietnamese, explained the situation. "There is a price stratification in Vietnam; vendors decide as you walk up what they will charge you based on what you look like. Japanese get charged the most, Koreans get the second highest prices. Westerners, as they all look the same, are third on the price totem pole. Then come Russians and North Vietnamese. Finally if you are from South Vietnam you get the best price."

Click to Enlarge.
There is one ATM in Saigon. Foreigners flock to it as it is easier and cheaper to get Dong electronically from their banks at home. The ATM limits you to withdrawals of two million dong, about US $140. We hypothesized that this arbitrary limit is probably due to the size of the cash opening on the machine. Two million dong in 50,000 bills, 40 notes, is a huge wad of cash. As one expatriate from England, who looked remarkably like Tim Curry, said to us, "In Vietnam you can be a millionaire every day of the week."