Current Dispatch
Journal
Next Stop






Contact Us
River Weed and BBQ Water Buffalo: A Food Adventure in Laos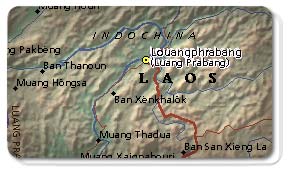 Map of where we are.
I love markets. Ever since I was a kid, when I used to literally get myself lost in them, food markets have held a certain fascination for me. A culture seems to spread its culinary identity out for you to examine in its markets. Like a tidal pool, where everything is caught and isolated for a short period of time, markets expose the root ingredients of a culture.

Click to Enlarge.
Southeast Asia is brimming with outdoor markets, filled with every conceivable household need and culinary item. Luang Prabang, the ancient capital of Laos and a World Heritage Site, lies on the banks of the Mekong River in Northern Laos. The town's central market is composed mainly of "durable" goods: TVs, shoes, watches, knives, etc. The food is located just down the Thanon Kitsalas. On Kitsalas, one of the two roads that makes up the main intersection in town, the prepared food vendors, peppered with a few produce and wares vendors, set up their stalls. We thought this would be a fun place to take a quick culinary journey through Lao. Accompanied by our new friend, Dawn, an American who was taking a short break before she set up her baking business in Toronto, we set off on our food adventure.

Click to Enlarge.
Dawn, a food lover like me, had already spent a good amount of time in Thailand and Laos, and had been motivated in exploring the various foods they had to offer. She had also grasped some of the necessary phrases and words in Lao, and proved to be an invaluable traveling companion. The first stall was serving a dish that Dawn had encountered before: a rolled rice noodle filled with minced pork. She sat me down to try it. Mary, a vegetarian, took over the camera duty.
Many food vendors are not just an outdoor kitchen, but an outdoor dining room as well. A stall is usually a short table and even shorter chairs or benches. One thing we've realized on this trip is that Asia has not adapted itself to very tall people. One becomes accustomed to eating with one's knees under one's chin. Depending on what's being served, you'll have a variety of implements and condiments at you disposal to enhance your meal. Usually, a stall will serve just one or two kinds of dishes.

Click to Enlarge.
In this case, the rolled rice noodles are made by mixing a glutinous rice powder with water until it's very thin and soupy. Then the mixture is ladled out onto a porous membrane and steamed over a great kettle of water. After a moment, the noodle is removed by partially wrapping it around a thick piece of bamboo and laid out onto a platter. A spoonful of the pork filling - a mixture of minced pork, mushroom, soy sauce, and scallion - is spread in a line on the noodle. The noodle is then rolled up like a crepe and cut it into bite-sized pieces. Once it has been placed on the plate, a generous helping of toasted shallots is sprinkled on the large white noodle for texture.
Dipping sauces are an essential and defining element of a good Lao meal. In this case, the proprietress of the stall offered a sauce with a sweet tamarind base mixed with a good dollop of fish sauce. The result was a tantalizing sweet and sour sauce. An expert in the process, Dawn immediately added a spoonful of the homemade chili sauce on the table, adding a suitable burn to the snack. This soon became one of my favorite quick bites. It was a tasty start to our market expedition.

Click to Enlarge.
As we first wandered the length of the market, watching how the Laotians made their choices and planning our own, we noticed that there were not that many vendors set up for dining. Instead, there was a thriving take-out business transpiring. Several vendors had on display a wide variety of bowls containing dishes that customers would choose from. Once the choices had been made, the vendor would package each dish in a separate plastic bag, tie it off with a rubber band, and add it to yet a larger plastic bag. A good helping of sticky rice, one of my favorite components of Southeast Asia cooking, would always round off the selection. The food repertoire complete, the happy customer would trundle off towards home, family, and meal.

Click to Enlarge.
This arrangement, however, did not seem to suit our purpose of tasting a variety of dishes, since we didn't want to actually have a full meal. Dawn found a way out of the dilemma. After crossing the street a couple of times, we zeroed in on one stall at the mouth of an alley that branched off about a third of the way down the street. With a combination of the basic Lao phrases she had learned and the inescapable hand gestures used around the world, Dawn managed to make it clear that we only wanted to taste a few things. The smiling matron quickly reached into the large bamboo sticky rice steamer and proffered each of us a ball of sticky rice. This was not a time for hesitation.
We quickly chose a bowl filled with an interesting mashed green roasted vegetable, transferred some of the sticky rice into our right hands, and scooped some of the mixture out of the bowl under the smiling eyes of the proprietress. To our delight, the mixture turned out to be a roasted green chili, mixed with a bit of fish sauce, and perhaps just a tad too much salt, but with a pleasant burn. This was obviously not something that you'd eat as a main dish, but would provide a nice compliment to a full spread of dishes. We were just getting warmed up.