Current Dispatch
Journal
Next Stop






Contact Us
Next Time, I'll Fly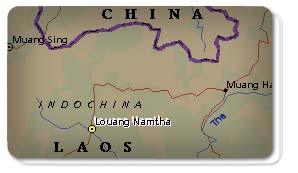 Map of where we are.
Traveling for three months in Laos, Cambodia and Vietnam, Will and I had perpetually wimped out. We could have traversed the 20+hour road that turns into a dirt path from Bangkok to Phnom Penh via minivan and pickup. Or, as the road has been recently cleared of landmines, we could have crossed the Cambodia­Vietnam boarder. And, we could have taken the four buses, totaling over 24-hours travel time, from Hanoi to Vientiane, Laos. However, due to personal warnings from Embassy staff, about to expire visas, and other excuses, we opted for the easy way out, one-hour flights: Bangkok to Phnom Penh, Phnom Penh to Saigon, and Hanoi to Vientiane.

Click to Enlarge.
In late April, we faced the choice again. We were in Luang Nam Tha, Laos, located in a northeastern river valley close to the Burmese and Chinese borders. A dusty one-street, one-market provincial capital, Luang Num Tha is surrounded by lush green mountains and ethnic villages. UNESCO is in the process of creating a conservation area in the primary forests, with trees that have never been cut, around the river valley. Luang Nam Tha's isolation from the modern world, as with all of Laos, is what makes it appealing.
We were feeling quite guilty that we had taken so many flights. In fact, we had chosen to fly to Luang Nam Tha. In our defense, the flight was a journey onto itself. We flew a Lao Aviation Russian Yun-12 prop, older than either Will or myself. Due to safety concerns, the UN, a friend told me, has banned flights on Lao Aviation for all UN personnel. We luckily made it. The thirty-minute flight cost $37US and it afforded us the luxury of skipping one four and one ten-hour crowded bus and an overnight in a town we did not have the desire or time to stay in.

Click to Enlarge.
We needed to get to Bangkok. Flying was an option, but a tedious one involving at least two plane changes and quite a lot of cash. Furthermore, when you travel for this long, there is a certain caché earned from traveling overland. Often times, the first question traded between travelers is "how did you get here?" If your answer includes the word "flight," you are immediately considered soft. If you have not gone overland on some great harrowing billion-hour trip, it is as if you have not yet proven yourself. You are not worthy of the title, "Traveler.""

Click to Enlarge.
Although we had not crossed a border overland, we rationalized that we had taken plenty of long painful bus rides. In Laos we rode a six-hour non-AC public bus from Vientiane, the capital of Lao, to Vang Vieng. As Lao New Year was approaching, the bus was completely packed. I had perched myself on 1/20th of a seat while Will was forced to stand. The heat and discomfort we suffered through were worth it in the end. Vang Vieng, tucked in the midst of towering limestone kharsts on the banks of the quiet Nam Song river, can only be reached by bus. We spent three majestic days there caving and tubing.

Click to Enlarge.
On Wednesday, back in Luang Nam Tha, we went to the Lao Aviation office. We made reservations for a flight out on Friday, the day our Laotian visa extension expired. Again in our defense, part of our reason for returning to Bangkok quickly was a recurring bout with an intestinal bug. One hour after making the flight reservations, we reconsidered. We wondered if we were getting old and weak; my bug had gone into remission. Will said he could make it. He asked if I was up to it. I accepted the challenge.

Click to Enlarge.
That evening, we spent our last peaceful evening at the Boat Landing sipping Beer Lao and playing chess. The Boat Landing is an idyllic two-bungalow guesthouse on the Nam Tha River, seven kilometers from town. The bungalows are traditional Lao a-frame-wooden stilt houses decorated with textiles woven by the proprietor's mother. Huge picture windows and a large covered deck face the river. Beyond the window, the Nam Tha winds its way through rice paddies and jungle. Hot water is provided by a solar hot water system. Electricity is available between 6:30 and 10pm from a diesel generator. The husband and wife team, who built the guesthouse from the ground up, also serves the best food in Luang Nam Tha. This is evidenced by the expats that visit the guesthouse's open-air restaurant every night. We toasted to our time in Lao and hoped for a successful journey.

Click to Enlarge.
The next morning, Thursday, April 20th we awoke at 6:30am. I threw my Eagle Creek Endless Journey backpack on my back and hitched its companion dayback to my front. Will did the same, and we hiked out into the main road to find a jumbo. Finally, a small covered pickup, a.k.a. jumbo, stopped for us. We heaved ourselves into the back and requested the driver take us to the bus station. We had purposely arrived an hour early for the 8am bus to Huay Xai, the Lao boarder crossing for Chiang Kong in northern Thailand, to ensure we would have seats. Upon our arrival we learned that we would not be taking a bus, but a songtheaw, a larger covered pickup with slightly cushioned bench seats. The road to Huay Xai is not paved. I left Will to save us butt room and I went to pick up some snacks for the ride. Luang Num Tha is only 250km (155 miles) from Huay Xai, but the ride takes eight hours.

Click to Enlarge.
When I returned, I began smoking again after three successful days of quitting. There were 30 people squashed in and standing around the pickup. The capacity was clearly stated on the side of the pickup, a completely unsafe 15 people. On our side of the truck a mother, two children, and a lady with a tubercular cough were crammed in with sacks of rice, clothes and vegetables. Four Israelis backpackers joined our motley crew, securing their butt space on the other side of the truck along with two other women. Seven people piled into the cab. More were still waiting to get onboard. They tried to ply their way into the back with us. One made it bringing our total on board to 21. The rest we, along with the Israelis, were able to hold off by pleading that there was no more room, of which there was not.
Finally at 8:30am we were on our way. Not five kilometers had passed when we heard a loud metallic pop. The truck started to wiggle back and forth and then abruptly came to a stop. Everyone piled out. The suspension had snapped. Will retrieved the piece that had broken off from the middle of the road. The driver pulled out some rudimentary tools and began removing large parts off the bottom of the truck. It was painfully clear, the truck was not going to be fixed.
Tractors were heading back into town. Will stopped one. We were about to throw our packs in with the vegetables. Luckily we still had plane reservations for tomorrow. The songtheaw driver stopped us, pantomiming that another car would be coming. The four Israeli's were sticking it out. We looked at each other guiltily and decided to wait.

Click to Enlarge.
At 9:30 another truck arrived. People began to pile back on. The new driver, seemingly more intelligent than the first, would not allow all twenty-one people into the fifteen person capacity truck. The original driver handed over our tickets and a huge wad of cash. There are 7,500 Lao kip to the dollar, the largest note is 5,000 kip and tickets cost 50,000 kip. After much counting and negotiating, we took off for the second time.