Current Dispatch
Journal
Next Stop






Contact Us
Tribal Trekking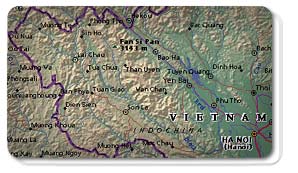 Map of where we are.
One foggy day in bustling Hanoi, Will and I embarked on a six-day adventure to visit the remote northwest mountains of Vietnam. Along with two fellow travelers we met in a café, we boarded a circa 1950's Russian jeep, built for neither comfort nor speed, intent on discovering the ancient tribal villages of Southeast Asia. This was our chance to be adventurers like Heinrich Harrer, Seven Years in Tibet, or Owen Lattimore, Desert Road to Turkestan.

Click to Enlarge.
The Russian jeep was identical to those made in the fifties: army green, a simple engine, bench seats for five, large glass windows in front, roof hatch, crank start, a soft top and no shocks. Its top speed was 42 kilometers an hour. We were told it was the best machine to navigate, what could be loosely referred to as, roads in the northwest. We could have opted for a Land Cruiser, but the jeep was cheaper and more romantic. It was our millennial camel.

Click to Enlarge.
Armed with our driver, Dziong, we headed away from the frenetic hustle and bustle of Hanoi. Within thirty minutes, we had reached the countryside; in a few hours we began to reach the mountains. The scenery was magnificent. A lush spring green carpet of rice paddies lay along the valleys. Coconut palms, banana trees, papaya trees, banyan trees and a whole host of purple, pink, white, yellow and orange flowers dotted the mountainside.

Click to Enlarge.
The mountains are similar in size to the Shenandoah's. There is one single-lane road that tediously, and often times perilously, winds its way through the entire area, up and then down each mountain. There are no tunnels. Towns and villages are centered around the road. It is their life-line. Occasionally we stopped for coffee and to buy tamarinds, bananas, or my favorite sugarcane. We also stopped for photos and to just marvel in the magnificent scenery.

Click to Enlarge.
As the day progressed, we wound our way through mist-covered forests and began to spot the ethnic villages. Typically the villages were comprised of approximately two dozen a-frame homes. They were constructed of rattan mats or wood planks and covered by thatched roofs. They stood grouped together perched on wooden stilts clinging to the mountains. Underneath the homes swung a hammock. Plump piglets and scrawny chicks foraged for food. Children played outdoors or on the decks of their homes. Little girls had their tiny siblings slung on their back.
In the valleys, women worked in the rice fields: planting, harvesting or watering without any machinery. On the face of the mountains, women hoed and worked the fields with the simplest of implements. In the afternoon, young girls and mothers washed dishes, clothes and themselves in the stream that ran through the village. Their bright hand-embroidered clothes hung outside to dry.
One of the 'main attractions' in Vietnam, Laos, and Northern Thailand is visiting the colorful tribal villages in the northwest mountains. Black Tai, Red Tai, Tai Lu, Red Hmong, Black Hmong, Dzao, Yao, and other Southeast Asian ethnic groups reside in these scenic isolated regions. The groups live as they have for centuries: wearing distinct tribal clothing, farming the land, speaking their own language and with very few of the modern conveniences of a typical southeast Asian, let alone American, household.

Click to Enlarge.
As we drove by, Dziong would tell us what tribe each village belonged to. Tribes can be distinguished by what the women wear, primarily by the headgear and type of skirt worn. The Black Hmong wear blue-black knee-length skirts and leg warmers that tie around the calf. The full skirts are densely embroidered with red, navy blue and white. The patterns - birds, dragons, flowers, and other symbols - reflect the aspirations and surroundings of their creator, the woman of the household. On top of their heads the women wear a blue circular open hat; their hair is wrapped in a loose bun and tucked into it. The Dzao women wear bright red full headdresses adorned with silver jewelry and embroidery. They pluck their hair so their hairline begins midway on their head. The younger girls and infants wear soft hats embroidered and decorated with coins. The coins are for protection against evil spirits. The various Tai ethnic groups adorn intricately woven and embroidered wrap-a-round skirts. Some tie brightly covered scarves around their head, others have embroidered head coverings or headdresses.

Click to Enlarge.
Dziong explained, with limited English and by drawing on the windshield cigarette in hand, that the different tribes live at different elevations. The modern boarders are of no use to them. Hmong live at the higher elevations and cultivate dry fields through irrigation. Tais live at lower elevations and cultivate wet rice. Their only farming machines are black or whitish-pink water buffaloes. As we drove by in our jeep, we saw men tending to the dignified beasts.