Current Dispatch
Journal
Next Stop






Contact Us
More than Ping Pong on Patpong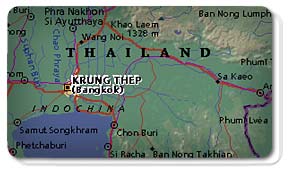 Map of where we are.
Prologue:
Our return to Bangkok was like slipping into the comfortable glove of quasi-Western urban life after three months of traveling through Cambodia, Lao and Vietnam. While planning the next phase of our ten-month trip, we decided to indulge ourselves: pizza, movies, Mexican food, US-trained doctors, TV. Even the Hard Rock Café, where I would not even consider entering while stateside, became a welcome slice of home.

Click to Enlarge.
While waiting for visas and recuperating from the inevitable intestinal bug, we did however make a concerted effort to experience Bangkok culture. Day trips were made to the Royal Palace, the National Musuem, Jim Thompson's House, and Chatachuk Weekend Market. As Bangkok is also known for its nightlife, on 'date night' Will and I decided to experience the seedier side of Thai culture - the infamous Patpong Road. Will's accounting of our night out follows.
......
Mary and I took our last antibiotic pills on Thursday. Friday night was going to be the night! "The Mask of Zorro" played on HBO while we got dressed; HBO-Asia is where they send all the bad movies to die. Mary had gone out the day before to replenish her dying stock of clothes, and actually had put together quite a sexy ensemble, including black stretchy pants that flared out a bit at the bottom. However, when they put the zipper in, they somehow managed to put in a white one, giving the impression of a permanent butt crack. We fixed the fashion faux-paux with a black Sharpie.

Click to Enlarge.
Clothes have been a real problem for Mary. After traveling for so long, tie-dyes have started to look appealing to her. She even bought a pair of pants with hand painted bamboo on the bottom. After we brought them home (to our hotel), she attacked me for letting her purchase them, even though I did question the purchase at the time. The pants have since been discarded. But, she still wears her fake Teva's with Nike emblazoned on the toes.

Click to Enlarge.
I, fashion king that I am, slipped on my already worn khakis and raw-silk shirt that I had made in Vietnam. I left the top few buttons open, just so the Thai girls could get a gander of a real man's chest. We were ready - dressed to kill and ready to drink.
We took a romantic sunset boat ride down the Chao Phraya river to the elevated skytrain and were finally deposited on Patpong Road in Silom. Patpong is Bangkok's red light district, world renown for it's girlie clubs and outrageous sex shows. After plying Mary with a few drinks, I was determined to talk her into visiting one, or more.

Click to Enlarge.
The first order of business however was to eat something. Intestinal bugs really kill food for you, making eating a chore. Well, not tonight. We were hungry and in the mood for Mexican. Yes, that's right, we wanted beans! We located La Fiesta, which from what I can tell, is one of maybe 3 Mexican restaurants in Bangkok, right on the corner of Patpong. We entered through a heavy wood door carved with all sorts of Latino icons - big hats, bulls and women. Inside, an attractive Thai woman about our age, dressed like a Senorita in a flowing skirt and frilly blouse, seated us in the smoking section. Mary has made it clear that she is quitting smoking, except for when she drinks and the occasional 18 hour plus bus ride. We sat down and ordered our margarita pitcher for two. Mary chose a bean burrito platter. I, on the other hand, having traveled with a vegetarian for the last three months, was in the mood for meat! I ordered a combination beef and chicken fahita platter.

Click to Enlarge.
We sat back and noticed the strains of music, omnipresent covers of a wide range of Western musical styles, emanating from an actual live band. The 'band' consisted of a Philipino couple squashed into a small corner of the restaurant: a man, a woman who provided backup and a somewhat inconsistent tambourine, and a karoake machine that filled in the rest. You name it they played it. He really wasn't so bad. He had a decent voice and could actually play his guitar, although not with much vigor. Beatles, Eric Clapton, "La Bamba" - they played it all.

Click to Enlarge.
Our food came. It was fine, but not stellar. I guess you can expect as much of a Mexican restaurant in Bangkok run by Thais as you could of a Thai restaurant in Mexico City run by Mexicans. The tortilla concept was still a little vague to them, though they made a good attempt at it. The only element that was really missing from my fahita platter was an overabundance of cheese. In the States, you have to dig through three inches of globby, melted cheese in order to find your food. At La Fiesta, I finally identified the few straggly slivers of yellow that sat on top of the shredded lettuce as cheese.

Click to Enlarge.
Our meal consumed, it was time to descend into the underbelly of Bangkok nightlife. We turned the corner of Patpong Rd. and ran smack into a crowded night market. Twenty, Ten, or even five years ago, the street would probably have been filled with a dazzling array of bachelors and GIs. Tonight seemed to be family and couple night. As we wove our way between the stalls, touts from the various sex clubs lining both sides of the streets would approach us with their pitch. "You want to see ping pong show? I got best girls in Bangkok!" He, or she, would inevitably point us too an open door, through which you could see a large number of scantily dressed Thai women dancing under a black light. Mary started to get freaked out. The touts seemed to focus on her. We were obviously a couple; I guess they figured that they would need to convince her first before I would be allowed in. They were right.

Click to Enlarge.
We walked the one-block length of Patpong, dodging T-shirt, sunglasses, snack and trinket vendors, and the aggressive sex-club touts. As we passed the variety of open door clubs, I noticed that each club had it's own "fashion" for the girls. One had them dressed in black boudoir-wear. Another went for revealing pink outfits. Yet another had them wound in striped gauze, which glowed under the black lights.

Click to Enlarge.
Mary needed some time, and definitely more alcohol, before she would be ready to step into one of those places. We doubled back towards Silom. At this point we just wanted a normal bar. On the third street we managed to find a row of hip bars, some blasting techno, some blasting bad pop.
There is a strange phenomenon in Asia, partly or wholly engineered by MTV. It seems as if one of the most popular types of band consists of between 5 and 7 pretty, but slightly roguish, white boys who are doing their best interpretation of a black R&B band. N'sync is only the tip of the iceberg here. It's a sickness. All of Asia has been brainwashed to believe that this is an acceptable form of music. We finally settled at a street-side table at The Balcony. It was located next to a gay dance club that had videos playing on the street for our enjoyment.

Click to Enlarge.
We drank our beers and watched as the lady-boy waiters imitated Brittany Spears in her Catholic schoolgirl phase. As we got to the end of our first round of Singha beers, we were handed a flyer by one of the waiters. The flyer explained, in sickly polite English, that because there were to be elections held the next day, by order of the police, no more alcohol could be served after 6pm. Alcohol would continue to be banned until 12 midnight on Saturday.
We were stunned; surely this must be a joke. First of all, it was already 8pm, and secondly, what was the government thinking, that every Thai person was going to go on such a rollicking binge that they wouldn't be able to make an informed decision at the polls? I mean, really. And even if that were the case, did they have to stop the flow of alcohol at 6pm on a Friday night? What about the almighty tourism dollar?