Mission Deep Blue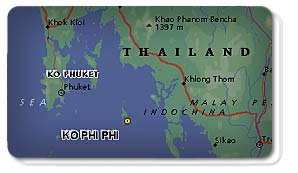 Map of where we are.
8:30am
The sun was shining; the temperature was 34ºC (93ºF) with a slight breeze. It was a beautiful morning - perfect conditions for our mission.


Click to Enlarge.

Prior to embarkation, Will, Jonathan and I were summoned into the briefing room. We took seats around the white oblong table surrounded by white walls and a whiteboard. Large colorful pictures of the creatures we hoped to encounter decorated the stark room. On the whiteboard our mission destination was written: Bida Nok. Our pierced and dredlocked Manchesterite leader Ian beckoned us to sit down. Around the table he carefully explained the mission profile and safety procedures.

Click to Enlarge.
9:15am
We boarded the launch and headed out towards our vessel, the Excalibur. She was massive yet sleek. As she took off, we carefully assembled our gear. Masks, regulators, weights and oxygen were checked and double-checked. I was nervous, but eager to engage.

Click to Enlarge.
9:30am
Will helped me heave on the tank and breathing apparatus. Awkwardly, I walked towards the disembarkation point. I stretched my mask over my head and put my regulator into my mouth. Strapped and secured, the four of us jumped into the unknown.

Click to Enlarge.
The heavy equipment became weightless in the new environment. Visibility was excellent at over 20 meters (66 feet). As we descended, new, strange and colorful creatures were immediately visible. With 30 meters (98 feet) as our target, we began the Deep Diving Module of our Advanced Scuba Diving Course.

Click to Enlarge.
Jonathan and Will decided to obtain their advanced scuba training to increase their abilities and knowledge of the underwater realm. I came along for the ride. The location was ideal - Ko Phi Phi, a group of islands off the west coast of Thailand. Sheer limestone cliffs tower out of the turquoise blue Andaman Sea. White coral sand beaches and tropical vegetation cover the islands.

Click to Enlarge.
The most exquisite beauty though, lies below sea level. Descending is like entering a new world. Underwater, the cliffs become home to an amazing abundance of life. Brilliant hues of soft and hard corals hug the limestone. Alien-looking fish and exotic marine life find shelter and feed amongst the coral outcrops and submerged caves.

Click to Enlarge.
9:40am
We hit our target, the 30 meter sandy bottom of the Andaman Sea. After checking our oxygen and depth gauges we signaled okay to Ian and each other. Then we gathered on the sandy bottom for a few mental dexterity tests to ensure we were not experiencing Nitrogen Narcosis, an intoxicating condition caused by too much nitrogen in the blood. Luckily, we all could write our name backwards and pass the other simple tests, not dissimilar from drunk driving tests administered above water.

Click to Enlarge.
To our left was the limitless blue expanse of the sea. To our right was an amazingly vivid coral wall. As we began to leisurely coast along the wall, I spotted a strange crustacean. I motioned to Will to come check it out. It was an iridescent bluish purple. Googley eyes that had a strange bisecting division stared up at us. Although it was the size of a small lobster, it did not have claws. Instead, praying mantis type hands were tucked under its face. Its back was encased in a smooth flat shell. We were glimpsing a rare Smashing Mantis Shrimp.
Click to Enlarge.
White soft Tree Corals with pink and purple leafy appendages hugged the limestone. Blue and orange nudibranches, a tiny type of sea slug, lay peacefully on veleveteen-like forest green hard coral. Nearby a circular swirl of mauve fabric, a nudibranch egg sack, fluttered as I passed by.

Click to Enlarge.
Further on bright yellow Damselfish hovered around a table-size growth of nubby grass green Table Coral. Sweetart orange Gorgonian Sea Fans the size of me swayed in the gentle water currents. A yellow and black Feather Starfish clung to a strand of Black Coral. Green tipped pink Magnificent Anemones swayed in the water currents. Immune to their mildly poisonous tentacles, finger-sized orange and white striped Clownfish found shelter in and likewise protected the anemone. Very territorial, Will got up close to see if he could provoke an attack. The Clownfish retaliated by charging his mask.