Current Dispatch
Journal
Next Stop






Contact Us
Simmering in the Asian Melting Pot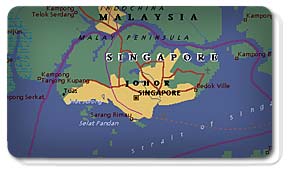 Map of where we are.
In downtown Singapore, smartly dressed Asians wondered through the myriad of glass malls, trendy restaurants and chic boutiques. As in the United States, shopping and eating seemed the most popular past times. Unlike the rest of the countries Will and I have traveled through, Singapore was excruciatingly expensive. With a bank account approaching red, we ate rather than shopped our way through the small city-state.
Underneath the hygienic globalized veneer, we discovered Singapore's nooks and crannies were filled with tasty surprises. Between Little India and Chinatown there existed an incredibly diverse mix of everything Asian.

Click to Enlarge.
Located at the very tip of peninsular Malaysia, Singapore has been a focal point for South East Asian commerce since Sir Thomas Stamford Raffles claimed the murky swamp as an English colonial outpost in 1819. Since then, Chinese, Indians, Malays, Europeans and other groups have made their home in the prosperous entrepot.

Click to Enlarge.
Today, Singapore is still a trading hub and also the financial center for the region. In addition to palm oil, coffee, nutmeg and rubber, traders now deal in futures and silicon chips. Like New York, skyscrapers tower over people hustling to and fro talking excitedly into the tiny cell phones attached to their ears. And also like New York, the distinct cultures of the people who make up the city can be experienced around every bend. Subway signs are in four languages: Chinese, English, Bahasa and Hindi. On one small Chinatown street a Taoist temple, a Mosque, and a Hindu temple sat side-by-side.

Click to Enlarge.
Little India was where we based ourselves for the four days we spent in the city. It was within walking distance to all the major attractions and had an interesting old-Singapore feel wedged between the wide boulevards and skyscrapers. Crayola yellow, pink, green and blue two-story turn-of-the century colonial buildings lined the streets. Each bottom floor held a shop, upstairs lived the owner.

Click to Enlarge.

Inside, each shop carried Indian specialities: silk Sari's, cotton fabric, Hindi pop music, or yummy delicacies. Will popped his head into a sweet shop to sample some Indian confections. After much deliberation he selected a light-green cube of condensed milk, rose water, and pistachios. It was so rich that one bite satisfied his sweet tooth.

Click to Enlarge.
For dinner we stopped at the Kormala Villas, a fast food South Indian vegetarian Restaurant. Packed to the gills, we knew it had to be good. I ordered the Thali, a mix of dishes served on one large plate: two spicy vegetable curries, a yogurt raita, a lentil-based dhal, rice, chapati bread, and a sweet rice pudding. Will ordered the Masala Dosa, a crispy rice flour pancake stuffed with spicy potato and vegetable curry. It was served with a soupy potato mixture mildly spiced with tumeric and a light coconut chutney for cooling. Both were marvelously Indian, well seasoned and filling.

Click to Enlarge.
Little India itself seemed quite authentic, if only a little sterile. Small restaurants, brightly colored signs, specialty shops and wealthy Indians filled the streets. In the sweltering equatorial afternoons, the smells and heat jettisoned us back to a previous trip to the sub-continent. It was a slice of India, only without the pollution and poverty.

Click to Enlarge.
Chinatown on the other hand was more reminiscent of San Francisco than China. Similar to Little India, colorful colonial-style buildings adorned the affluent streets. But in a city where over 75% of the population is Chinese, there is nothing ethnically Chinese about the neighborhood. All the buildings have been refurbished and instead of noodle makers, they hold the new Singaporean dot coms. Or, the buildings are home to fantastically priced and decorated theme bars and restaurants.

Click to Enlarge.
One bar that Will and I sat down at for happy hour, Café Indochine, had a massive carp pond with a steel bridge spanning it installed right in the middle. Earth-toned cushions lined the interior. Trendy waiters, dressed in black, lit incense and placed the sticks strategically around the room. A pitcher of Tiger beer cost an unbelievable 30 US dollars. Terribly underdressed and underfunded, we had entered the Nob Hill of Singapore.

Click to Enlarge.
We bolted out of Chinatown to look for some Chinese food. I made myself comfortable at Ru Lai Vegetarian. Near the museums and the electronic markets and with plastic tables, seats, and menus, it looked more within our budget. While Will checked out what's new in flat screen televisions and mini cell phones, I perused the menu. After guidance from the waiter-owner, I ordered a fake meat feast.

Click to Enlarge.

Singapore-style seafood noodles were peppered with a pink delicate crab like substance. Spicy and a tad bit crunchy imitation chicken was served in a slightly sweet fiery sauce made from small red chilies. Tofu swam in a soy ginger sauce with massive black mushrooms. I was in vegetarian heaven. Thinking back to my meat eating days, I definitely prefer meat substitutes to the real thing. They are more-varied-in-texture sauce delivery mechanisms and more importantly guilt free.