Detour to Everest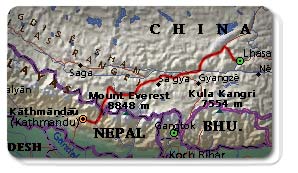 Map of where we are.
At 5:00am we embarked on the 920 km (570 mile) overland journey from Katmandu to Lhasa. Our eyes barely able to focus, a friend and manager at our hotel draped traditional Silk kata's around our neck. We said our goodbyes to Nepal and climbed on our tour bus bound for the border. Sachicko, a Japanese women studying Nepalese, Michael, a Stanford professor, and Imed, a New York modeling agent, joined us on board. They were to be our constant companions for the five-day adventure.

Click to Enlarge.
The first stop was the chi-chi Dhulikel Mountain resort. We ate breakfast on the rim of the Katmandu valley, reveling in our last bit of luxury before the hard journey ahead. For three more hours we ascended by bus. The road meandered along both the Bhote and Sun Khosi rivers. Multiple stops were made to negotiate landslides caused by a recent spate of Monsoon rains. The air was humid and cool. Waterfalls pounded down the mountains. The bus continued to climb through the clouds and dense jungle.

Click to Enlarge.
A gigantic sign over a bridge spanning a huge canyon sternly greeted us. It read Peoples Republic of China, Zhong Guo Ren Min Gong He Guo, in Chinese. We had made the boarder. The tour guide asked us to disembark and pile our luggage into a truck. He then hurried us over to the other side of the bridge. Even though it is on the same latitude, Tibet is two hours and fifteen minutes ahead of Nepal, on Beijing time. We needed to rush to make the checkpoint before it closed. The checkpoint was 1000 meters (3280 feet) above us in a town called Zhang Mu.

Click to Enlarge.
The truck with our luggage waited ahead. It resembled a cattle car with iron bars and a rusting metal frame. We stood around looking for the jeep we had expected to meet us, but the guide practically pushed us on board the truck. Clinging on to the iron bars we ascended the 1000 meters. The steep road, a mud path at best, wound treacherously back and forth up the mountain. For thirty minutes we were jostled around like dice in a backgammon cup.

Click to Enlarge.
Then we reached Zhang Mu. It was a typical white-tile-storefront Chinese town, but built into the mountainside. It did not look like Tibet, just like a Chinese Nepal. At the boarder crossing, we met our new Tibetan guide. He informed us the road through Zhang Mu was closed. We would have to walk to our car on the other side of town, another few hundred meters higher, while he finished processing the paperwork. Already breathless from the altitude, we hired porters to help us carry our bags. We climbed uneven stairs, like those crossing the vertical distances in Edinbugh, to reach the end of town.

Click to Enlarge.
Hundreds of trucks were backed up. A huge waterfall spilled over the road. A few rocks placed strategically formed our bridge to the other side. I gazed down the 1500 meters (5000 feet) of mountain and braced myself for the crossing. Will helped me down, as with age I have developed a slight case of acrophobia, and the five of us went in search of our guide and driver.
Mao, as Will nicknamed our driver, gruffly shuffled us into the car. It was a Toyota Land Cruiser, the apparent car of choice for Tibetan roads. But with three seats in front and three in back, it was clear that seven of us, including three American men, were not going to be comfortable for the next seven days. In Chinese I explained this to Mao. I rearranged the bags and made a cubbyhole next to the baggage. Facing rear, I reclined with the baggage in the jump seat.
As we began our trek on the Friendship Highway, the roads unfortunately did not improve. The Land Cruiser slowly teetered on mud, rock and waterfall. The five of us laughed nervously as we peered down the canyons below, as we ascended further into the clouds.

Click to Enlarge.
We started our final ascent towards Nyalam Pass at 3080 meters (10,100 feet). Although we were over the border, it still looked like we were in Nepal. Then about one hour outside of Zhangmu, I looked way out beyond the road. Electric periwinkle sky and desert brown rocky mountains greeted us. We had left green, wet Nepal for a dry brown Martian landscape. Snow capped mountains lay in the distance. We had finally made it to the Roof of the World. Now we were in Tibet.

Click to Enlarge.
That evening we stayed in Nyalam town, a dusty one street stopover, where we received our first dose of Tibetan food and lodgings. Neither was terribly pleasant. Luckily we had not expected much. I did however convince the proprietress, with a little help from Imed's offering of Polaroid pictures of her, to let us use the bathroom on the roof of the guesthouse instead of the public one on the street. Bathroom however is a bit of stretch; it was a hole with a pail of water. We did not see a shower until Lhasa.

Click to Enlarge.
At 9:30am, the next morning Beijing time, which should be 7:30 Tibet time, we were bumping down the Friendship Highway again. The landscape was astounding. It was like a sci-fi movie scape, barren and inhospitable. Upon closer look, though, tiny wildflowers: maroon and white puffballs, purple lilies and tiny yellow blooms, colored the sandy ground.

Click to Enlarge.
Not one hour outside of Nyalam, Mao came to a dusty halt. Next to us were low stone, almost medieval looking, houses. At first glance, I thought they were ruins, but it was a functioning town. Stones were piled up forming a dirt 'yard'. Inside each courtyard was a small stone house with three stripes - black, red, and white - painted on top of the house for the three protector gods of Tibet.